The trigger is the most sensitive part of any pistol for competitive shooting and may make the difference between winning or losing. Our design is inspired by the most successful air pistol trigger system in the world.  It has proved itself a thousand times and offers more than just the usual possibilities to ensure that you score the max!
SHOOT FASTER AND WITH MORE CONVIDENCE WITH OUR "DIRECT TRIGGER"
No need to search the trigger point anymore! With the new "Direct Trigger" you can pull the trigger without hesitation, more accurately and with more confidence to score the max!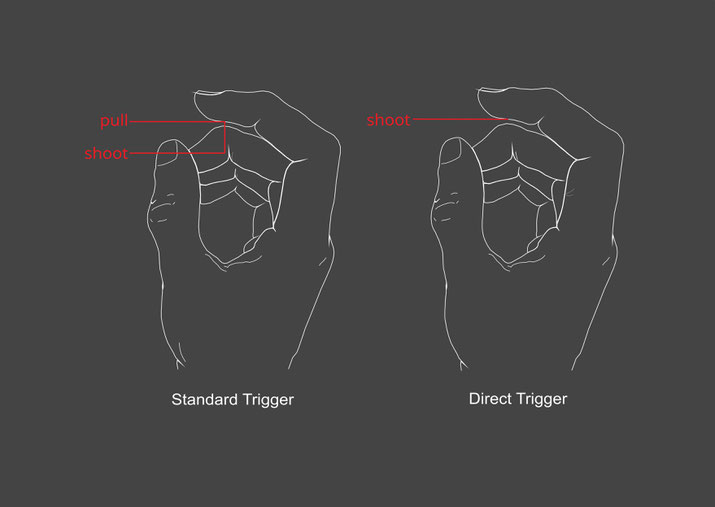 MORE CONSISTENCY WITH OUR BALL BEARING TRIGGER PARTS
The Scoremax trigger carrier is equipped with high quality and backlash-free ball bearings for more smoothness to make sure you score the max!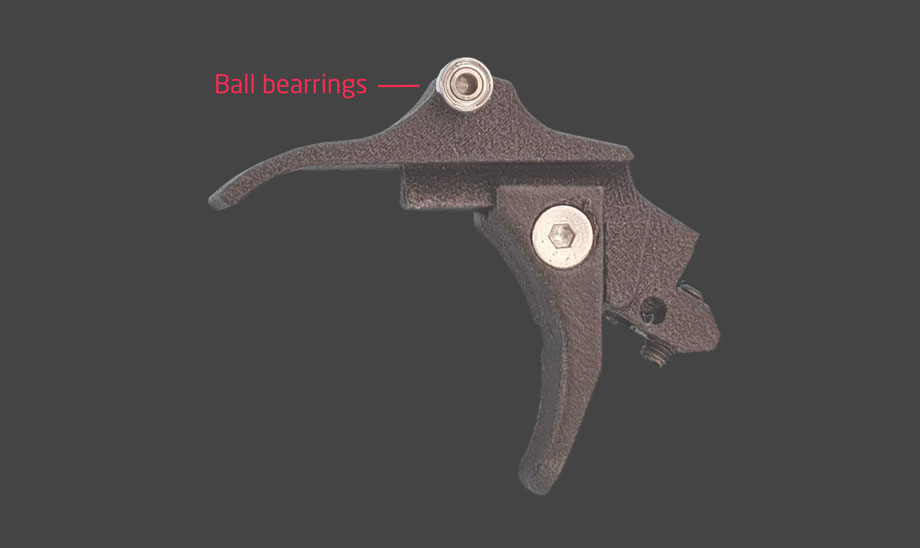 The most expensive pistol with the best system is useless if the grip does not fit. Best triggersystem and most expensive pistol are useless if the grip doesn't fit properly. Hands come in all sizes: they differ in width and lenght-have short or long fingers.  So, the usual grip sizes with adjustable palm rest do not meet the needs of the user sufficiently.
CUSTOMIZE YOUR GRIP
Our unique system of 21 grips, 7 different grip widths and 3 grip lenghts guarantees optimal customiziation, steady aiming to ensure that you score the max!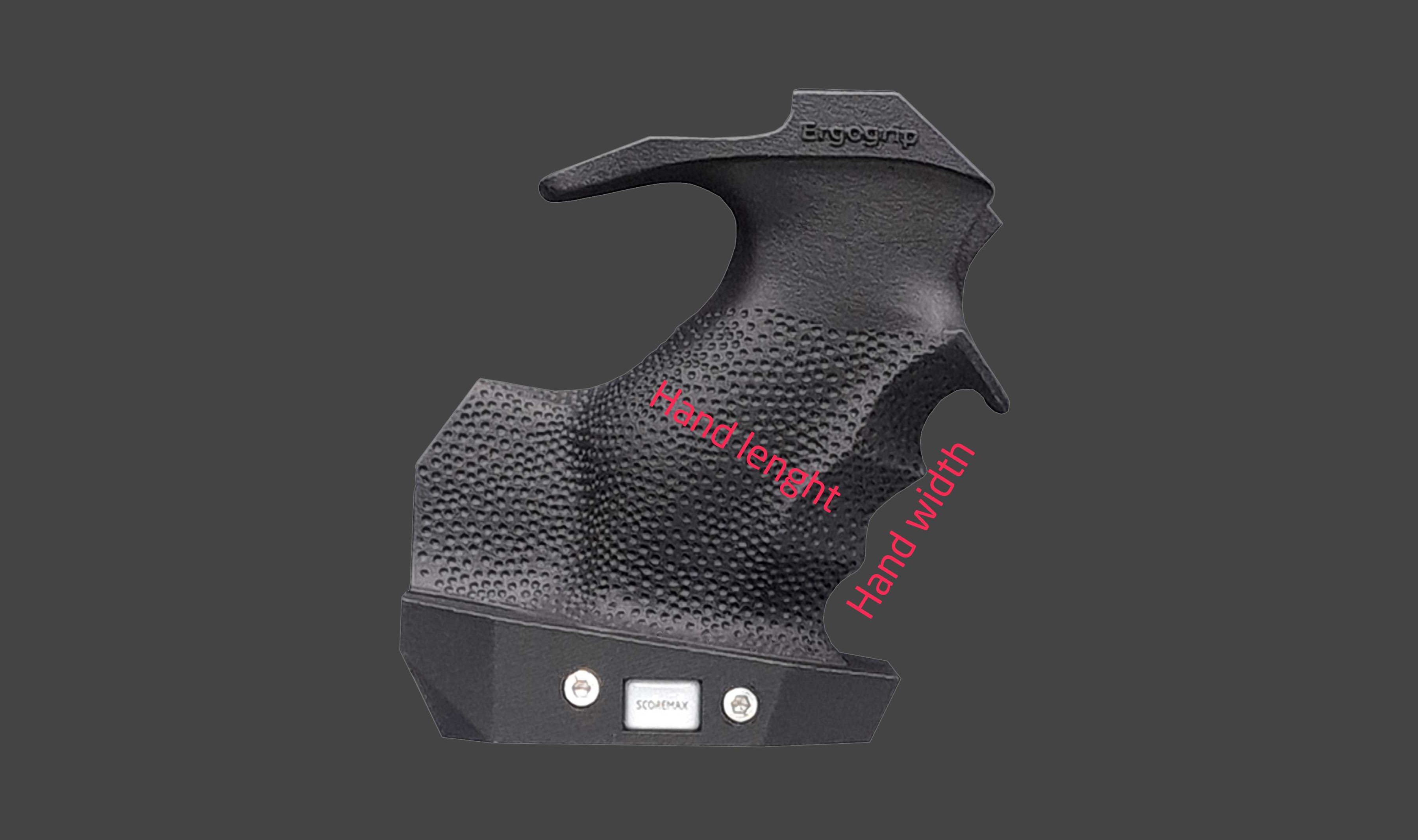 FIND YOUR BEST PERSONALLY GRIP ALIGNMENT TO THE BARREL AXIS
Perfect alignmet is vital to avoid tension in the wrist resulting in misses. Apart from adjusting the height of the barrel axis, we offer a full range of 360 degrees to adjust left/right alignment of the grip to the barrel axis to score the max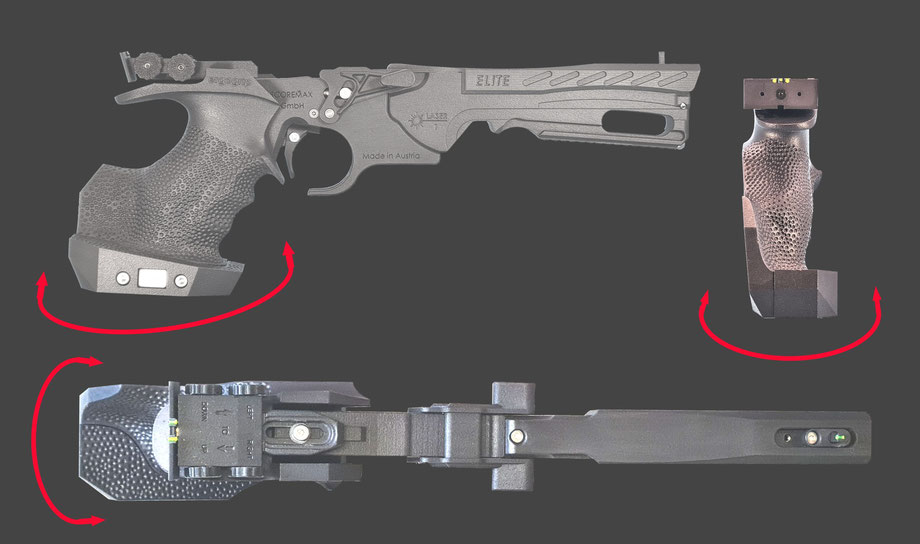 We provide various innovations to enhance light conditions and handling of our SCOREMAX pistols.
ADJUSTABLE SIGHTING LENGHT FOR BEST RESULTS.
The lenght of the sighting line significantly influences your ability to hold the pistol steadily. The longer the sighting,  the better you aim-however, if it is too long trembling may ingrease.  With our SCOREMAX pistole you can choose the optimal sighting lenght to score the max!
AVOID UNNECESSARY CONTORTIONS WITH REARSIGHT "COMFORT"
Regular rearsight pistols provide only one screw for right/left and one for up/down adjustments which are on one side of the rear sight. While one screw can be reached with the non-aiming hand, the other can nly be adjusted by twisting your hand around or laying down the pistol. We therefore, provide adjusting screws on both sides of the rear sight for better handling, to safe time and help you score the max!
The pistol must touch the table between each shot!
Glide effortlessy into the target with our "gliding ball".